As I stated in a previous post, I found some treasures in one of my quilter's storage tubs – a quilt top all cut out and ready to sew called Eventide. I found this quilt on the Internet a few years back when it was part of a sew-along put on by Cupcakes 'n Daisies. The sew-along is long past, but Thelma has several posts still up including one called "Eventide Parade" where you can view several pictures of participants' quilt tops. The original pattern is from Miss Rosie's Quilt Company but I made my own pattern.
When I found this quilt ready to sew I was in an "Ohio Star" kind of mood. I had just completed a quilt called "Square Dance" from a book I have on scrap quilts. That was my third Square Dance quilt. I then completed a quilt top called Scrappy Ohio Stars with sashing and a border and was already dreaming of another Ohio Star quilt. I had such a fever to finish this quilt that I sewed the entire weekend and finished the top on Sunday morning.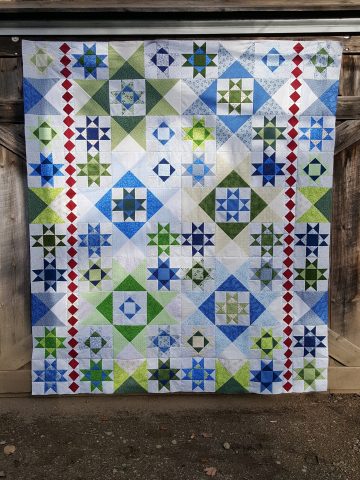 I wanted a good photo of the quilt top and laid it out on the bed. However, the artificial light did nothing to flatter the features of the quilt and the overhang on the sides hid the effect of the red borders. I knew I needed a full shot of the entire quilt top. I looked out the kitchen window trying to figure out how I could get it hung up outdoors and saw the shed was lit nicely in the mid-morning sunshine. I got out my ladder and my little stapler and tacked the quilt top to the shed wall. The effect was stunning! I got this beautiful photo of my finished Eventide quilt top.
The original pattern calls for a border all around, but I really like it without the border. However, I added another row of blocks across the bottom to make mine finish at about 78 x 90 inches. I have already ordered the backing and I can't wait to get this one layered and quilted.
I am now dreaming of another Eventide in a different color scheme. I swore I wouldn't create unfinished tops but I just can't stop piecing blocks!