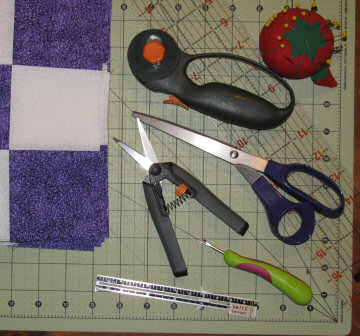 I have read much about tools for quilting. A lot of people push expensive tools – rotary cutters, quilting rules, and cutting mats – and high end machines in order to be able to quilt. If you are new to quilting and your machine is 30 years old (or older) and you do not even own a rotary cutter, don't worry. You can still quilt. When I started quilting, I went to my local department store's craft section and bought a:
Fiskars 3-Inch-by-18-inch Clear Acrylic Quilting Ruler;
Fiskars Rotary Cutter;
Fiskars Cutting Mat, 12-Inch by 18-Inch.
These simple, inexpensive tools and my 35-year-old Singer got me started on my quilting adventure.  The only stitch you need to do quilting is a straight stitch, so even the most basic machine can be used to make a quilt. Your grandmother's treadle will work, as well.
I am assuming, since you have a sewing machine, that in addition to the machine, you have:
Sewing pins
Sewing scissors
Thread snippers
Stitch ripper
Seam guide
With these simple tools, you can get started making quilts. You do not need professional, expensive tools to make pretty, functional quilts. Remember, our grandparents and great-grandparents and our great, great, great, great- (add a few more greats in) grandparents did not have the luxury of any of these tools and did everything by hand. Technically, the only cutting tools you need are a ruler and a pair of scissors. So don't waste your money buying expensive tools. Spend your money on fabric, instead. 😉